ESG data collection and reporting
FINGREEN AI will help you determine relevant ESG metrics then implement the data collection, dispatching process and reporting.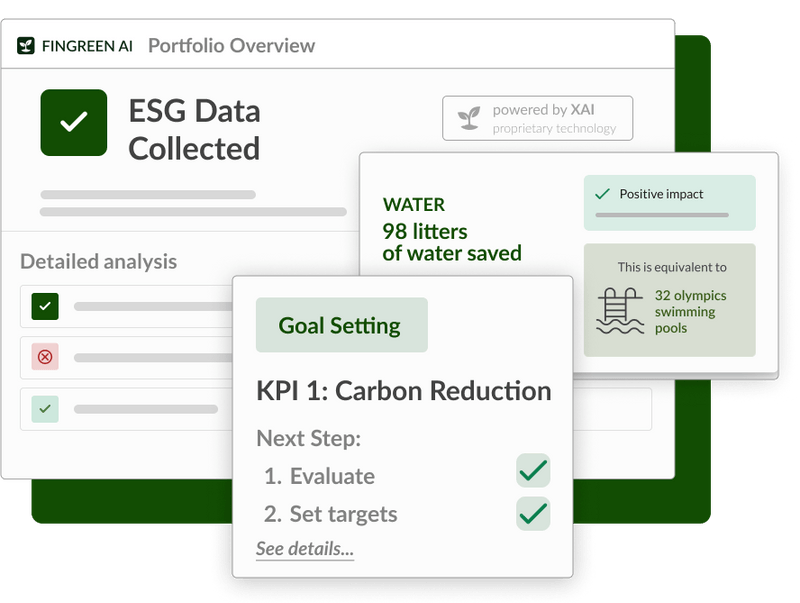 Customize your ESG reporting goals and collect data
ESG metrics
Understand the metrics that are relevant to your use case
Data collection
We simplify and automate part of the data collection process. Collaborate with team members
Documentation
Upload documents, centralize your ESG validation documention
Reporting
We automate the reporting and time series tracking of your ESG performance
Why us?
Whether you have an inhouse expert or are just beginning your ESG journey, the FINGREEN AI solution will deliver enormous efficiencies. We'll help you from start to finish, producing traceable ESG reporting, tailored to your specific needs.
A simple and collaborative data collection process
Our focus is to simplify and automate the data collection process. With a suite of widgets, connectors, AI suggestions, we break down the barriers in order to make the experience as simple as possible.
We also provide team collaboration features and managed file storage for data verification purposes.
A detailed custom report
We produce reports in various formats. Each value is explained, referenced to date sources and computation rules.
A machine readable report you can share with you investors
Distribute your ESG reporting in various formats that cater the needs of your investors and stakeholders.