The Corporate CSRD
Solution starts here
Stay ahead of the CSRD reporting requirements. Take the first step with a materiality assessment through our AI-driven sustainability platform.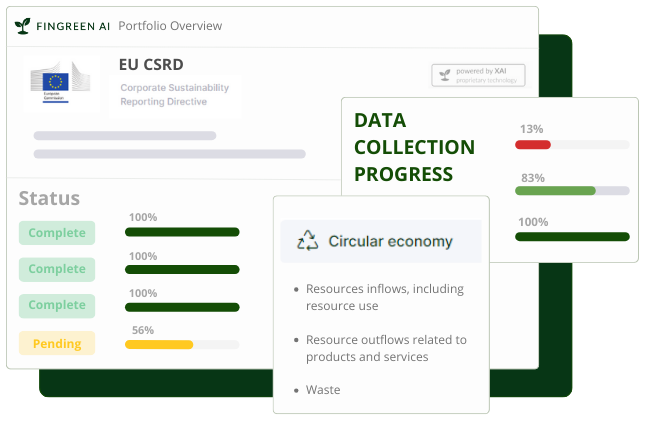 Your CSRD journey
1. CSRD Eligibility

When is your company eligible for CSRD? For many companies, CSRD compliance starts in January 2025.

2. Double materiality assessment

Start your journey towards CSRD compliance by conducting the crucial first step of a double materiality assessment.

Manage stakeholder engagement
Identification of the list of potential material sustainability matters and impact, risk and opportunities
Determination of the final list of material matters based on an assessment of the materiality of the impacts, risks and opportunities

3. ESRS data collection & disclosures

We provide end to end management of your data collection process.

Smart data collection for up to 1700 ESRS data points
Team collaboration features
Centralized data and file management

4. Audit and assurance

One platform to manage the stakeholder of audits to provide limited and reasonable assurance.

External auditors portal
Smart collaboration
Centralized data and file management

5. Reports automation

Our platform fully automates the regulatory reporting creation.

Double materiality assessment report
ESRS disclosures
XBRL regulatory format exports, for digital submission to authorities
Save
Resources and capital by streamlining CSRD management. Reducing overall inputs at the company level.
Comply
With the ESRS and report your sustainability matters on the basis of the double materiality principle.
Manage
We simplify, store and centralise the processes of managing large data sets and stakeholder input.
Reporting
Minimise manual compliance work. Digitally produce qualitative, quantitative, forward-looking and retrospective information.
Why us?
Book at 15 or 30 minute call with our team to learn more!
Automated SaaS solution
We are a technical platform. We empower self-service data collection and automated reports creation.
Collaborate with your team or external experts
We help your team collaborate and centralize data. You can invite internal or external collaborators to answer individual questions. Upload files to support and/or verify your answers.
Transparence and explainability
We provide full tracing and explanation of all data sources, definitions, computation logic, authoritative regulations.