EU Taxonomy
Alignment
Understand your EU Taxonomy alignment through our digitalized and simplified process.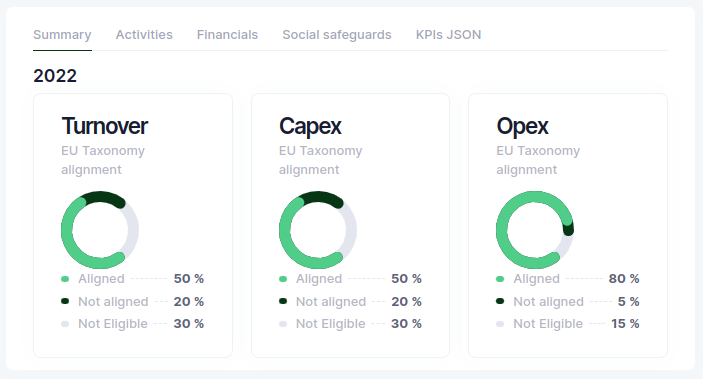 A simple process to produce your Taxonomy reporting
Activities and objectives
We assist you in the selection of Taxonomy eligible activities and their related environmental objectives
Financial data
Centralize the collection of Taxonomy required financial data
Technical screening
We guide you through the technical screening criteria process
Reporting
We automatically calculate your company's EU Taxonomy eligibility and alignment for Turnover, Cap Ex, Op Ex
Why us?
FINGREEN AI will guide you through the whole process of producing a EU Taxonomy alignment report at lower the costs and greater accuracy than traditional methods.
A simple and intuitive data collection process
Just input the NACE codes for your company and we automatically suggest mapped EU Taxonomy activities.
A detailed Taxonomy alignment report
We produce Taxonomy reports in various formats with each value explained and referenced to date sources with computation rules.
A machine readable report you can share with you investors
Distribute your ESG reporting in various formats that cater the needs of your investors and stakeholders.