Our mission
Our Values
Innovation
Technology and innovation are key to our solution. We have developed proprietary technology allowing us to optimize every process.
Long Term Engagement
Our goal is to help all private market stakeholders understand and master their portfolio's ESG performance and achieve their long term goals.
Absolute Traceability
Moving away from black-box methodologies and greenwashing, transparency and traceability are the fundamentals of our ESG solutions.
Open data
We want to end greenwashing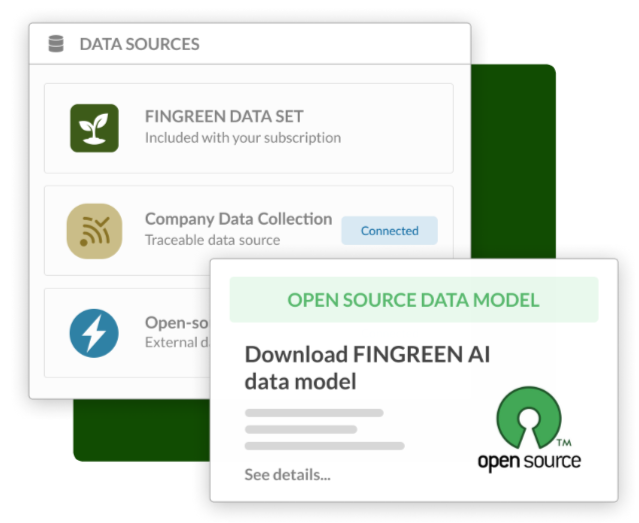 Due to a lack of regulations, greenwashing is continuously on the rise as investment managers make unjustified environmental claims for their products. Greenwashing misleads decision-makers into investing in projects whose green marketing is not backed up by genuine sustainability credentials.
This is enabled by ESG agencies who use rating methodologies with little justifications, and keep their processes hidden with no uniform standards for certifications and labels. The wide discrepancies between ESG ratings make it incredibly difficult for investors to precisely and transparently measure the impact of their investments.
With many sustainable financial products relying on these complex and unknown ratings, it is critical to understand what's behind this data affecting investment decision.This is where our Explainable AI technology and open-source data referential comes in and allow us to provide fully traceable data solutions.
Creating an open-source ESG data referential eliminates black-box methodologies surrounding existing ratings and disclosures. We believe in a transparent approach and objective metrics that give investors a more accurate understanding of their impact.
At FINGREEN AI, we believe that open-source is the only possible future for ESG data and we are eager to accelerate this process as much as we can. We are creating the only transparent, traceable and customizable ESG solution to eliminate greenwashing and contribute to a truly sustainable financial system.
Open source is the future of ESG